2020 Creative Futures Recognition Award winners announced
3 Dec 2020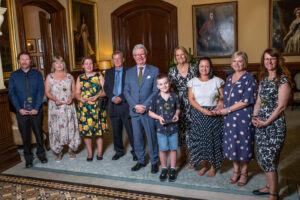 Pictured above: His Excellency the Hon Paul de Jersey AC (centre), Autism Queensland Chair Ian Langdon (centre left); Autism Queensland CEO Pam Macrossan (centre back right) with (left-right): Darren Buswell, Nelle Frances, Xanthe O'Connor, Ryder Lee, Canewyn Johnson & Linda Stone (C&K Ascot), Lea-Anne Bradley (The John Villers Trust).
---
Autism Queensland has announced the winners of the 2020 Creative Futures Recognition Awards, an annual event that recognises the contributions of people living with autism.
The Governor of Queensland and Autism Queensland Patron, the Hon Paul de Jersey AC, presented the awards at a morning tea at Government House, Brisbane today, Thursday 3 December, to coincide with the International Day of People with Disability.
Awards were presented awards in six categories.
Hervey Bay teenager, Xanthe O'Connor received the Individual Achievement Award for fulfilling her dream and creating the Hearts & Hands Signing Choir, an all-inclusive community choir with about 20 members. Non-verbal until the age of 8 years, Xanthe's first form of communication was through song. She was the 2020 School Captain of Hervey Bay Special School.
Eight-year-old Ryder Lee from Ipswich was presented the Peer Support Award, a new category created in 2020 following his nomination. Ryder was nominated for the award by Renee Manly in recognition of the support and compassion Ryder shows her son Caspian, and for being the role model she feels he is, even at this young age.
Caloundra father Darren Buswell received the Parent/Carer Award, and autism advocate, consultant and special needs educator Nelle Francis received the Professional Achievement Award. C&K Ascot Community Kindergarten was recognised with the School/Community Award for its inclusive pre-prep program and strong advocacy and excellence in educating children on the spectrum.
The Patronage Award was awarded to The John Villiers Trust which has provided substantial and ongoing support to Autism Queensland for many years for its regional services. More recently they became a major funder for a substantial redevelopment of the AQ School campus at Sunnybank Hills, the same site the late John Villiers visited regularly and provided financial supports for building works during his lifetime. Master Builders Queensland, also a major donor to this project, were presented with a special commendation in this category.
Special commendations were also awarded as follows:
Individual Achievement: Alyssa Bennett, Hunter Bates, Iggy King, Hunter Thompson.
Parent/Carer: Tanya Hicks, Jennie Petrey
Professional Achievement: Kristalee Oneile
School/Community: Our Sensory Space Caloundra, Queensland Department of Public Works & Housing, FuturePros Tennis Academy
Autism Queensland Patronage: Master Builders Queensland, IGA Brighton.
Autism Queensland thanks His Excellency for again hosting the event and everyone who submitted nominations for this special annual event.
---
View All Articles