April is Autism Month: it takes a community of support
21 Mar 2023
It takes a community of support to work toward a neuro-inclusive world for all.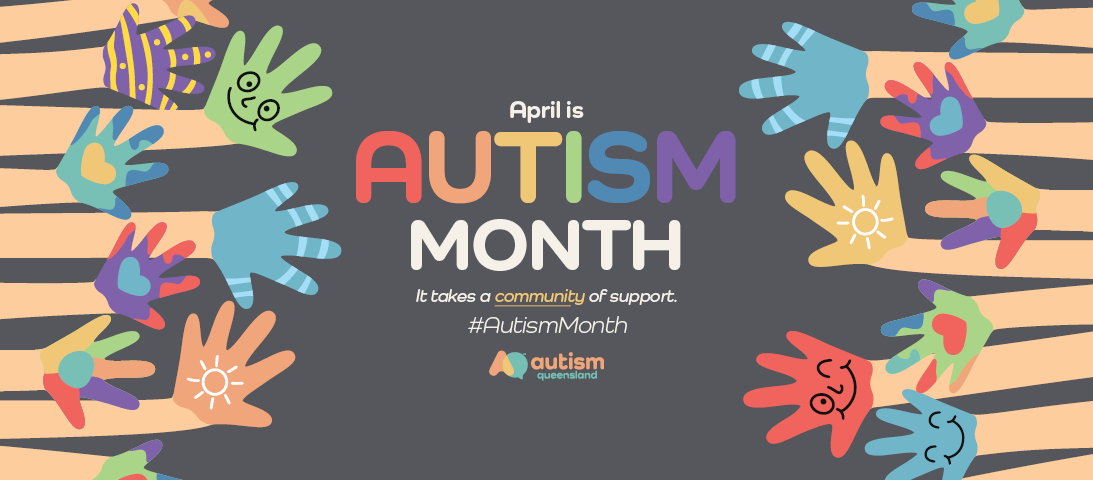 April is Autism Month, a time to celebrate and acknowledge the unique strengths and challenges of autistic individuals.
What is Autism?
Autism is a spectrum condition which means that while all people with a diagnosis share certain difficulties, they can present in a variety of ways and to varying extents. However one thing that unites every autistic individual is the need for support and inclusivity.
Autism results from biological or neurological differences in the brain. While the cause of autism is unknown, research suggests there may be a genetic basis in many instances, although not all. Learn more about Autism Spectrum Disorder (ASD) here.
Downloadable Resource
Click the button below to view and download a printable PDF resource that gives a brief overview of "What is Autism?"
Through increased awareness and education, we can work towards creating an inclusive society for autistic children, adolescents and adults.
Creating a neuro-inclusive world for all requires a community effort. It takes parents, educators, employers, healthcare professionals, and the wider community working together to ensure that individuals with autism have access to the support and resources they need to provide them with a life of participation, opportunity and choice.
But it's not just about providing support to autistic individuals. It's also about creating a society that is more accepting and accommodating of neurodiversity. This means recognising the unique talents and strengths of individuals with autism and valuing their contributions to society. It also means challenging stereotypes and stigmas surrounding autism and working to create a more inclusive culture.
There are many ways that individuals and communities can work towards a neuro-inclusive world for all. Here are just a few ideas:
Educate yourself and others about autism: The more we understand about autism, the better equipped we are to support autistic individuals. Take the time to learn about the different ways that autism can affect individuals and the types of support and resources that are available.
Create inclusive environments: Whether it's a workplace, school, or community space, everyone can play a role in creating more inclusive environments. This might involve making physical accommodations, such as installing sensory-friendly lighting or offering noise-cancelling headphones, or it might involve creating a more welcoming culture that values diversity and inclusivity.
Support autism organisations: There are many organisations that work to support autistic individuals and their families. Consider donating your time, money, or resources to these organisations to help support their mission.
Speak out against stigma & advocate for autistic individuals: Challenging stereotypes and stigma surrounding autism is an important part of creating a more inclusive society. Educate others about the diverse strengths and talents of autistic individuals and advocate for their rights.
Celebrate neurodiversity: Finally, it's important to celebrate the unique talents and strengths of individuals with autism. Whether it's through art, music, or other creative endeavors, everyone has something to contribute to society.
How is Autism Queensland helping?
Lighting up Queensland a spectrum of colours
Autism Queensland is lighting up Queensland with a spectrum of colours for Autism Month this April and World Autism Day on Sunday 2 April. Various council assets and landmarks around Queensland will be lit up to spark conversations and recognise the importance of autism awareness and supports.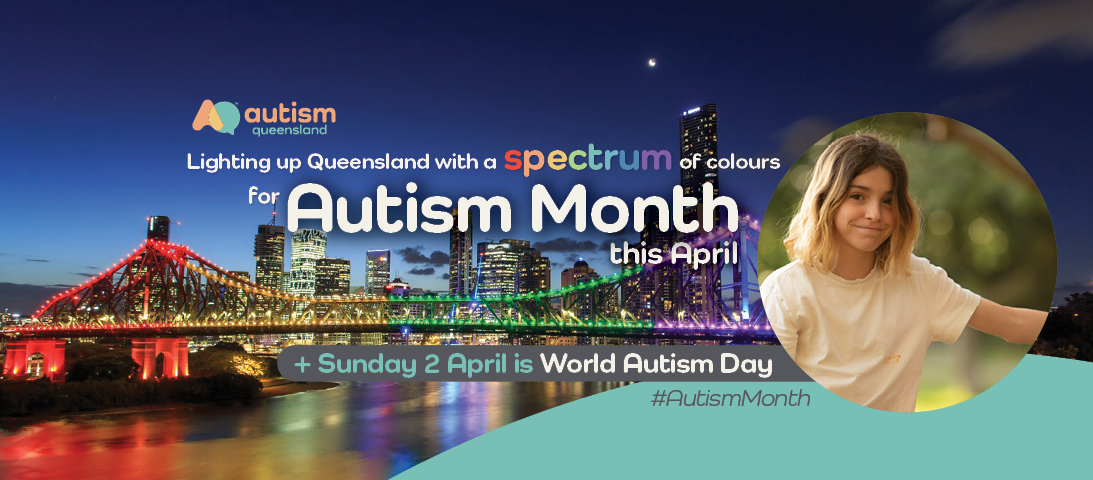 Ky's Story
Six years ago, the Ky's Story: Living With Autism short film (narrated by actor Hugo Weaving) took the world by storm. Now, follow up chapters in this animation series Ky's Story: Growing With Autism and Ky's Story: My Sister Jorja are having a special screening on SBS on World Autism Day on Sunday 2 April. More details to be announced, but you can view all three films in this series on the AQ YouTube channel.
Supports and services
Autism Queensland is the State's peak autism body. We deliver quality services and supports for autistic people through our exceptional workforce, enhanced infrastructure and sustainable growth. These services include diagnostic assessments, individual therapy, schooling, inclusion services, support coordination, behaviour supports, therapy groups and so much more. View all our services here or reach out to us today about how we can support you, your family, or your organisation.
Parent & Professional Education
Autism Queensland has a number of upcoming autism-related workshops and webinars suitable for autistic individuals, parents, carers, educators, therapists, and others supporting and working with autistic people. Check our full calendar of upcoming sessions and keep checking back as we add more this Autism Month.
Research & Development
Our dynamic Research & Development team promotes evidence-informed, high quality practice at AQ. Reviews of current evidence inform our services, and research is conducted that aims to inform future directions of programs for autistic children and adults. Read more about the research programs AQ are currently participating in or external research projects looking for participants.
Resources
We have a number of interactive and informative resources for all to access and share. These include support services, information papers and shareable content. View these resources here.
How can I help
now

?
Spread the word: share our campaign messaging and resources. Follow us on Facebook and let everyone know that Autism Month is this April. Click the images below to download a full resolution version of these shareable assets for social media.
Share the love: showcase the incredible stories of autistic individuals or those helping them. Share their art, the passions, their journeys. Host your own events and share them with us!
Start your fundraising journey: help AQ by fundraising for Autism Month. Start your journey here by visiting our Fundraising page or contacting our Fundraising coordinator.
Make a donation: make a life-changing donation today. Your support helps AQ continue to provide services and supports for autistic individuals and work toward a life of participating, opportunity and choice.
Break down the barriers and create a more inclusive world for autistic individuals of all ages.
This Autism Month, let's work together to create a more inclusive and supportive society for individuals with autism. By recognizing the importance of community support and working towards a neuro-inclusive world for all, we can create a brighter future for everyone.
View All Articles