AQ Gladstone receives $10,000 donation from Twin Valleys Motorcycle Club
13 Apr 2021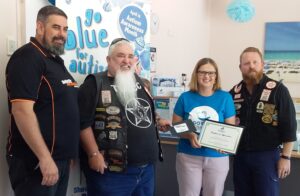 Autism Queensland Gladstone today received a $10,000 donation from the Twin Valleys Motorcycle Club who raised the funds through their major raffle fundraiser event.
First prize was a Harley-Davidson motorcycle donated by Harbour City Harley-Davidson.
Club president Eddie Wust and longtime club member Jacob Davis presented the cheque to Gladstone Team Leader Katrina O'Brien, who accepted the donation on behalf of Autism Queensland.
Mr Wust said the club decided to make Autism Queensland Gladstone the major recipient as many of the club members have family members and friends who are on the spectrum.
"We received great support from the community and we're really happy with the effort everyone put in this year to raise $10,000 for such as good cause.
"The club wanted to raise autism awareness to let families in our region know that help is available," he said.
"Autism is an issue that is pretty close to home, there are high number of kids with autism in Gladstone well as club members with kids on the spectrum."
-ends-
Pictured above: (l-r) Shagga Matheson, Harbour City Harley-Davidson, Eddie Wust & Jacob Davis, Twin Valleys Motorcycle Club with AQ Gladstone Team Leader Katrina O'Brien.
View All Articles