ASD Online Transition Resource Package
The Autism Spectrum Disorder (ASD) - Online Transition Resource Package provides a one-stop shop of information and resources for teachers, parents and carers to assist children with autism to make a smooth transition from early childhood learning into all Queensland schools.
With a focus on the day-to-day educational needs of early childhood and Prep students with autism, the resource includes evidence-based information, strategies, transition activities, links and support options for families, professionals and educators supporting young children with autism.
It also includes a downloadable collaborative planning document which provides a framework for all members of the child's transition team: the family team; the sending team; and the receiving Prep team.
The ASD Online Transition Resource Package is a joint initiative of the Department of Education and Training, Queensland Government, Autism Queensland and AEIOU Foundation and was developed over a 12 month period. It was launched in August 2012.
Click here to access the Resource online.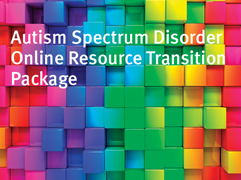 View All Resources