Adolescent/Adult Goal Setting Tool (AAGST)
The Adolescent/Adult Goal Setting Tool (AAGST) has been designed to enable neurodivergent people including those on the autism spectrum to actively engage in person-centred planning processes.
It is not a standardised test but a card-sort that can be used flexibly to maximise the capacity of the person on the spectrum to identify, prioritise and communicate their goals.
The AAGST is suitable for:
NDIS Planning
Schools facilitating post-school transition planning for students
Employment Agencies
Disability Service Providers
Therapists supporting adolescents and adults on the autism spectrum with goal planning
Individuals and their families.
​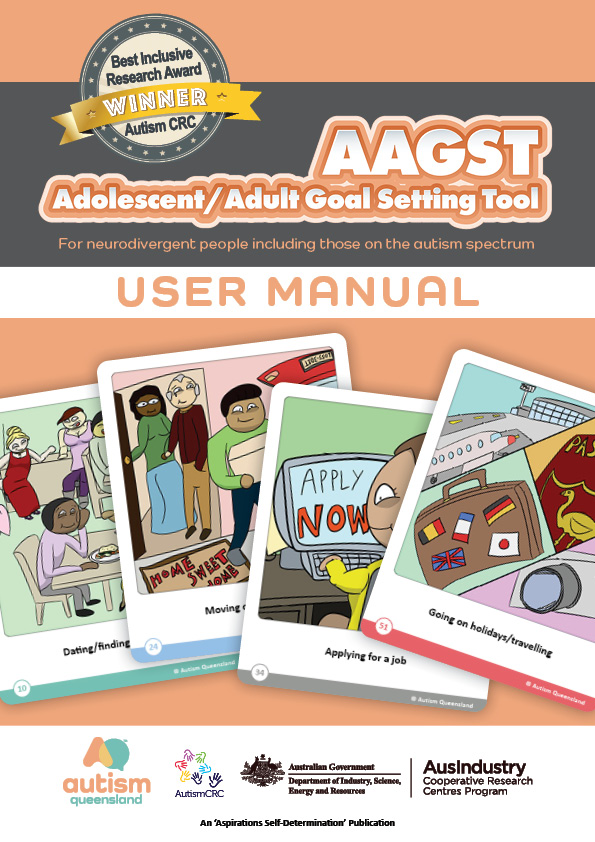 ​It consists of a pack of 75 illustrated goal cards divided into nine categories including:
Social relationships
Self-care and Home Living
Study and Training
Employment
Health and Fitness
Community Access and Participation
Communication
Finances
Emotional Wellbeing.
It also includes:
Four Sorting Plates
A Something Else Card & Goal Explanation Card
Detailed User Manual
Quick-Start Guide & Resource Booklet containing a How to Use Guide with tips, suggested script, and master copies of a Goal Record Sheet, My Priority Goals Form and Planning Sheet. (All masters are designed to be copied).
---
Acknowledgements
Judy Jones, creator of the Family Goal Setting Tools, on which this tool is based.
The research project participants who contributed to the evaluation and refinement of this tool
The Cooperative Research Centre for Living with Autism (Autism CRC*) for the funding of the evaluation of the tool
Contributors with lived-experience of autism, in particular members of the Australia & New Zealand Autistic Self Advocacy Network (ASAN) led by Ms Katharine Annear
Autism Queensland's Studio G Post-School Transition Program
Illustrators: David Smith, Jermu Hautsolo.
*Autism CRC was established by, and receives funding from, the Australian Government's Cooperative Research Centre Program.
RESEARCH AND DEVELOPMENT OF THE AAGST
---
The evaluation of the AAGST won the 2018 Autism CRC Award for Achievement in Autism Spectrum Research for the team's outstanding commitment to inclusive research practices.
---
The AAGST is an Aspirations Self-Determination Publication. For information other publications in this series (The Family Goal Setting Tools, FGSTs) please click here.
View All Resources