'Yes – I want to work on this': pictures giving people with autism a voice
2 Jan 2020
Autism Queensland researchers, in collaboration with the Cooperative Research Centre for Living with Autism (Autism CRC), have teamed up with students from the Studio G creative design program for young people on the autism spectrum to create a new illustrated Goal Setting Tool for Adolescents and Adults.
The Adolescent/Adult Goal Setting Tool (AAGST) consists of a pack of 74 illustrated goal cards divided into nine categories. These include social relationships, self-care and home living, study and training, employment, health and fitness, community access and participation, communication, finances, and emotional wellbeing.
The cards' illustrations were created by autistic adult and former Studio G participant David Smith (below right), who designed the cards to be respectful of diversity in terms of ethnicity, gender and sexual orientation.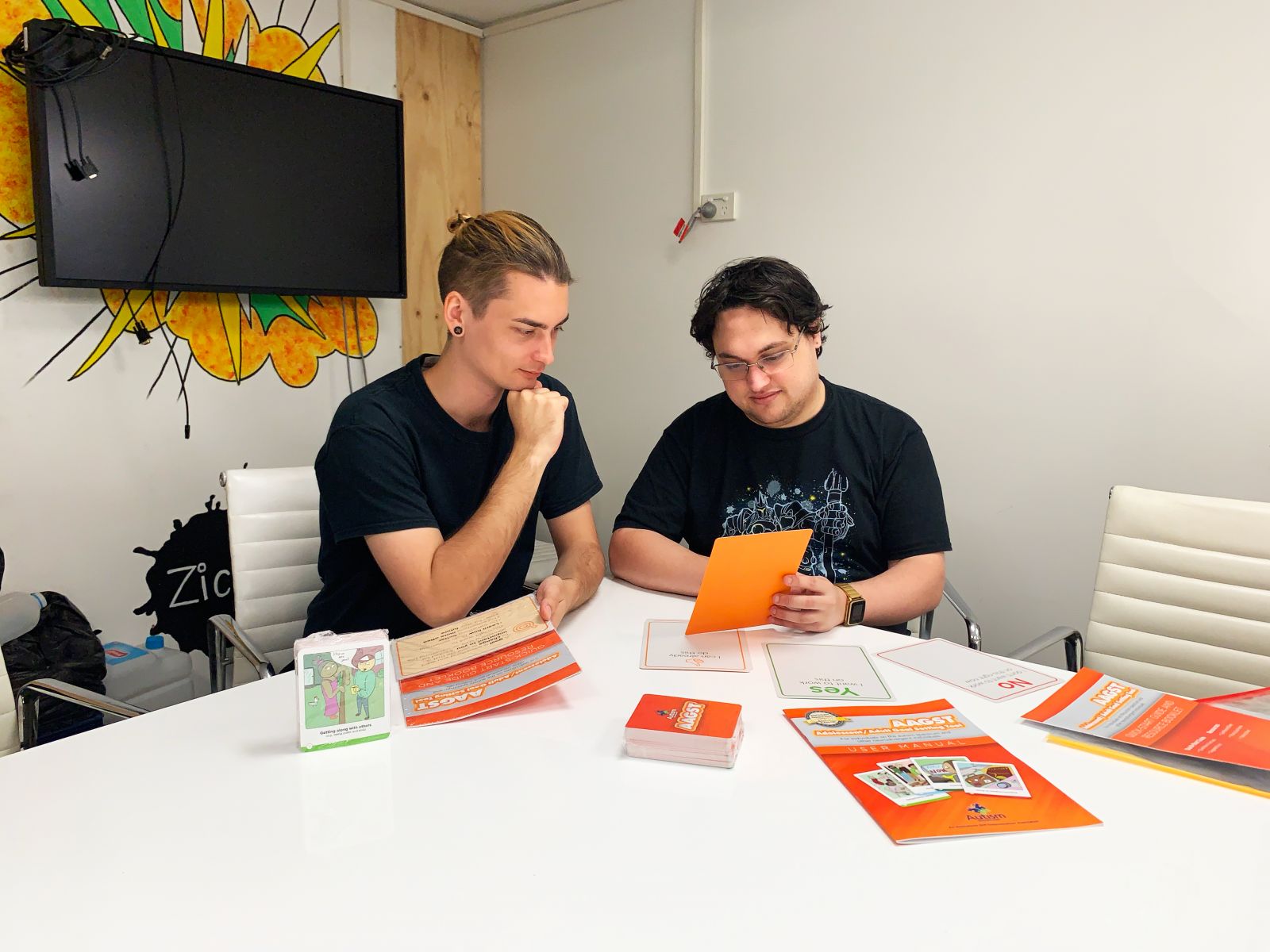 "I started on the AAGST at the end of 2016 with my mentor Jermu Hautsolo (left), shortly before I left Studio G as a participant and started mentoring teens on the spectrum at Teen Tech Shed," David said.
"Jermu and I worked well together, playing off each other's strengths and experiences to create the artwork for the cards."
Today, David is a Studio G mentor working with teens and young adults on the spectrum.
"It was very rewarding when I came back to Studio G as a mentor and got to see the AAGST being trialled with the participants and seeing how useful the tool was," he said.
Jermu said "working with David was a treat, he is a talented artist with a witty sense of humour.
"I feel he will continue to succeed in his artistic pursuits. Anyone working with David in the future will have gained a creative and considerate teammate," he said.
The AAGST cards are sorted according to the person's goals and are prioritised and personalised into what each goal means for them. A planning sheet then allows them to create a plan to help them achieve their goals, including an outline of the steps required to achieve the goal, as well as setting review dates to track progress or update their goals.
The AAGST ensures that the goals people on the spectrum express for their futures are genuine reflections of self-determination.
Lead Researcher and Manager Research and Development at Autism Queensland, Dr Jill Ashburner, said people with the lived experience of autism were involved in all aspects of the AAGST's development.
"During the first research phase, a list of items was generated in collaboration with members of the Australia and New Zealand Autistic Self Advocacy Network (ASAN) who suggested additions such as disclosure of autistic identity, self-advocacy and networking within the autistic community," she said.
"Over the four stages of research, 76 people on the spectrum were involved in either providing feedback on the goal cards or trialling the goal setting tool. Feedback was also gathered from 34 family members and 8 professional staff who supported people on the spectrum to use the tool.
Changes were also made to the manual to enhance the tool's accessibility to a broad range of people, with a wide range of abilities ranging from intellectual disability to above average intelligence and ages ranging from 14 to 60 years.
Dr Ashburner said David has a lively contemporary animation style that appeals to young people using the tool.
"Many of the goals are highly abstract in nature," she said. "For example, Exploring/meeting spiritual needs is an important goal with very different meanings for different people.
"David demonstrated remarkable creativity and imagination in coming up with images that successfully communicate abstract ideas," Dr Ashburner said.
The AAGST is suitable for use for NDIS Planning, schools facilitating post-school transition planning for students, employment agencies, disability service providers, therapists supporting adolescents and adults on the autism spectrum with goal planning, individuals and their families.
It was recognised for outstanding commitment to inclusive research practices at the annual Autism CRC Awards for Achievement in Autism Spectrum Research in December 2018.
The AAGST is available for purchase from the Autism Queensland website.
---
For Enquiries:
View All Articles